Narrow band ADC front-end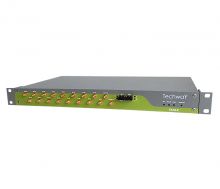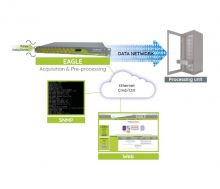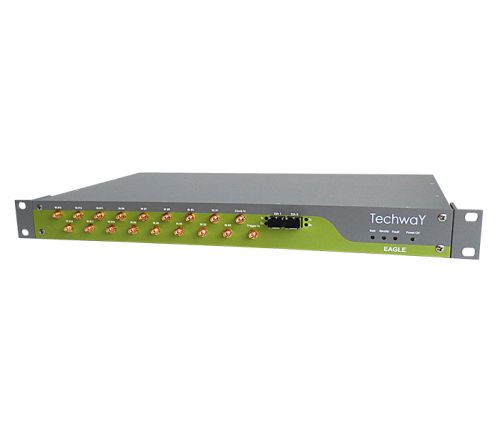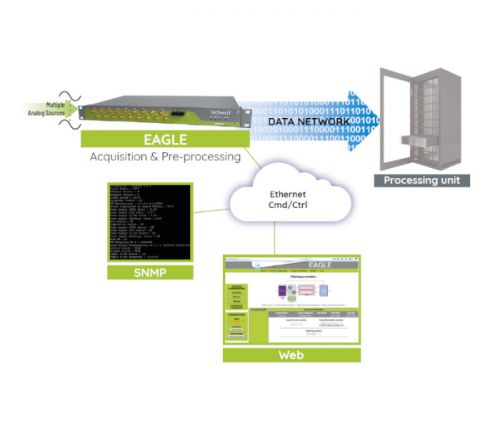 EAGLE
EAGLE is an unique "narrow band ADC front-end" solution which allows to manage multi-channel acquisition and to offload data pre-processing stages from real-time calculators. EAGLE shares the processed data with the communication network making this acquisition solution highly-scalable.
EAGLE solutions are ready-to-use and user-friendly. Data processing algorithms are included and configurables thanks to an intuitive Web interface.
Our EAGLE solutions are used in major projects as European Space Agency projects or to equip new passive RADAR.
Description
Attributes
Reference
Applications
Passive RADAR
Phase-array RADAR
Over-the-horizon RADAR
Seismology
Transmission
Scientific research :
Benefits
Pre-configured FPGA processing
Real-time pre-processing
Cmd/Ctrl : Web and SNMP
Low cost per analog channel
Data offload over 10 GbEth
All-inclusive solution
Scalable architecture
Key features
Up to 16 analog input
Up to 125 MSPS sampling frequency
Embedded DDC & windowing for each channel
FPGA processing
Bypass mode (full bandwidth)
Data output : 10 GbEth (optical)
Power supply : 24 VDC to 50 VDC, 35W max
Enclosure : 1U/19″ 280mm depth, <4kg
Integrated solutions
| | |
| --- | --- |
| Channels' number | 16 |
| Environment | Commercial, Industrial |
| Form Factor | Box |
| Supplier | TECHWAY |
| I/O | 10GbE |
EAGLE_16-125 (Acquisition)
1U 19'' pre-configured multi-channel acquisition box, up to 16 analog inputs @ 125 MSPS.
EAGLE_Sync-125 (Synchronization)
1U 19'' synchronization box up to 8 EAGLE_16-125.