Zynq board PCIe with FMC+ (Xilinx SoC)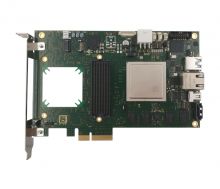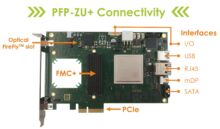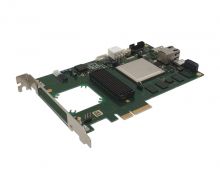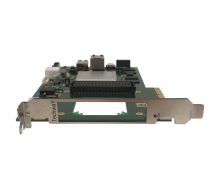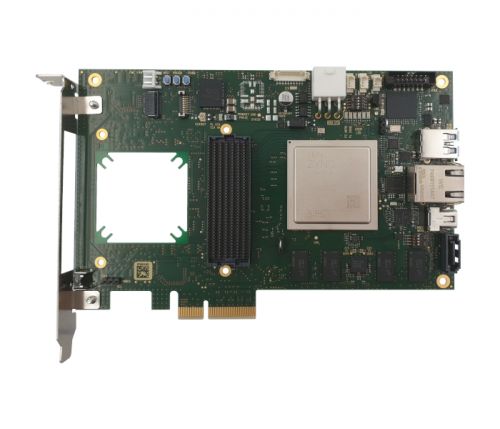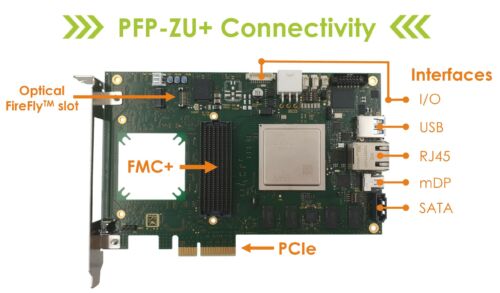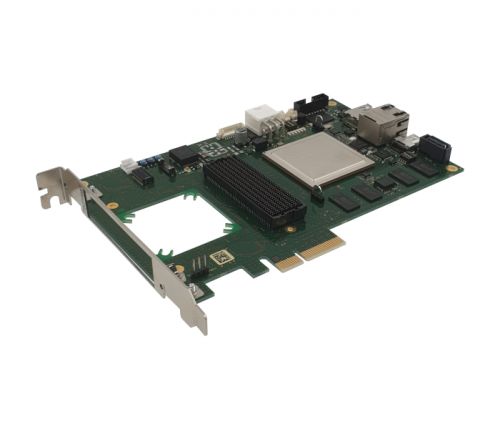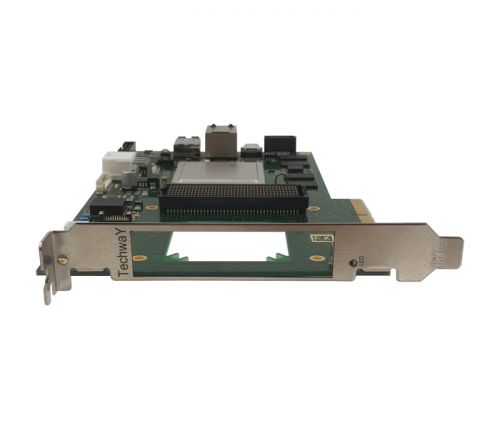 PFP-ZU+
The new PFP-ZU+ product range is a multi-purpose Zynq board PCIe with FMC+ site based on the latest Xilinx's SoC (System on Chip) called Zynq UltraScale+.
The PFP-ZU+'s versatility comes from useful features including a fully FMC+ site, DDR4 memories, a management system, etc. Thanks to ARM processor, you access to multiple interfaces which allow to design stand-alone equipment easily.
Built on a common real-time processor and programmable logic equipped platform, our PFP-ZU+ features ZU7CG & ZU11EG SoC to optimize performance/price ratio.
Zynq® UltraScale+™ MPSoC devices provide 64-bit processor scalability while combining real-time control with soft and hard engines for graphics, video, waveform, and packet processing.
PFP-ZU+ can be easily used in a standard PC environment (drivers available for both Linux and Windows) or in your own enclosure as a stand-alone equipment.
Description
Attributes
Reference
Applications
Co-processing
Test bench
Prototyping
Data-aquisition
Data-recording
High-speed data-switching
Advantages
PCIe Gen3 compliant
Embedded CPU and FPGA processings
Versatile interface with FMC+ connector
Multiple standard interfaces (USB, SATA, RJ45, etc.)
Additionnal interfaces : User I/Os, optical FireFly slot
Cost-effective solution
Key features
Zynq UltraScale+ MPSoC
PCIe x4 Gen3
FMC+ connector
Stand-alone mode
High-speed protocol capable : Up to 16,3 Gbps
Programmable oscillators
Extended optical interface
Windows or Linux support
Xilinx's SoC
Xilinx's System on Chip (SoC) is the new disruptive technology for high-end Embedded systems. SoC integrates the software programmability of ARM processor with the firmware programmability of FPGA in one unique component.
SoC offers an unrivalled levels of system performance, flexibility, and scalability. This component is the perfect solution to build stand-alone "SWaP" (Size Weight and Power) optimized equipment.
TECHWAY has 20 years development experience in Xilinx FPGA PCIe platform with FMC interface. Thanks to our know-how, we offer costeffective solutions to bring the SoC technology into industrial applications.
PFP-ZU+ is a perfect fit for system integrators who are looking for reducing development time thanks to ready-to-integrate boards.
FPGA boards
| | |
| --- | --- |
| Environment | Commercial, Industrial |
| Form Factor | PCIe |
| Supplier | TECHWAY |
| FPGA family | Zynq UltraScale+ |
| Interface | FMC, FMC+ |
| I/O | A/D, D/A, Optical, SFP, sFPDP, 10GbE, 25GbE, 40GbE, GbE, LVDS |
| PCIe | PCIe x4 Gen3 |
PFP-ZU+_07
PCIe FPGA Platform (PFP) with Zynq UltraScale+ 7CG MPSoC, PCIe x4 Gen3, FMC+ site.
PFP-ZU+_11
PCIe FPGA Platform (PFP) with Zynq UltraScale+ 11EG MPSoC, PCIe x4 Gen3, FMC+ site.